We captured a bird's-eye view of improvements to the city of Monticello Wastewater Treatment Plant. (Drones are awesome, don't you agree?)
The plant pumps and system were causing several bottlenecks in the facility, keeping it from performing to its full potential.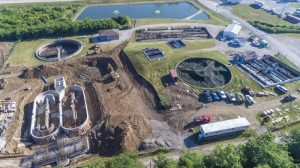 Parts of the facility, built in 1926, were original. Due to the aging infrastructure and more stringent Illinois Environmental Protection Agency regulations for nutrient removal, it could not be reused for biological treatment.
The team at Fehr Graham has designed a new treatment system to alleviate the bottleneck and process enhancements that will ensure the facility will be able to treat wastewater with ease.